Solid Rivets
At Securit, solid rivets are all we do. Aluminum, steel, stainless steel, copper, metric, standard, custom, industrial, or buck rivets… if it's a solid rivet, we can make it. We understand that every buyer has different requirements and, working with you, we aim to learn about your needs so that we can deliver solid rivets that meet your specifications. By utilizing the best materials available, employing a dedicated team of experienced professionals and taking extra steps for quality with our in-house sorting department, you can be confident that our rivets won't just live up to your expectations, they will exceed them. In short: we pay attention to the quality of our materials so that you don't have to.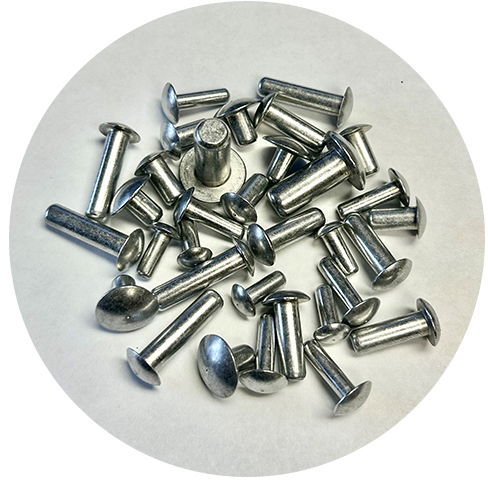 Aluminum / Buck Rivets
Often called buck rivets due to their method of installation, when hammered by a rivet gun, buck rivets make a distinct "bucking" sound. A time-tested solution, buck rivets from Securit are manufactured and finished with the same precision that our standard solid rivets are.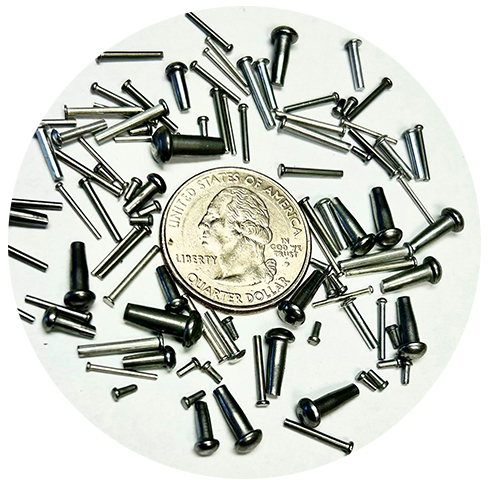 Miniature Rivets
Miniature rivets range from .020" to .125" in diameter and are utilized in a number of applications, including ball bearing cages and medical devices. Securit began manufacturing miniature rivets after acquiring a manufacturer of small rivets in 1988. Since then, everything has remained small and customers have come to depend on the consistent quality of our "nursery."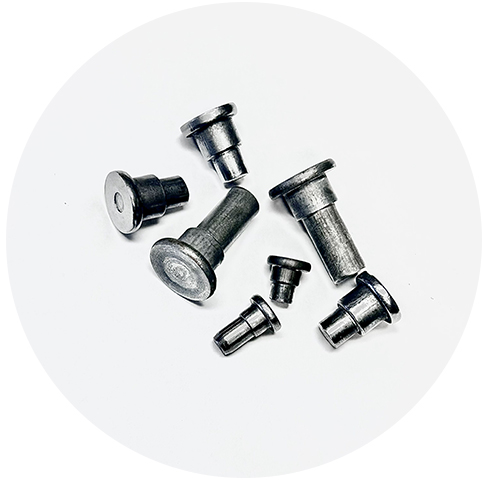 Shoulder Rivets
Available in aluminum, brass, copper, steel and stainless steel, Securit's shoulder rivets are a quick, effective way to fasten materials that need to be pivoted during use. With a finished head, a wide shoulder and a thin tenon, shoulder rivets allow for the movement – sliding and rotating – of joined materials.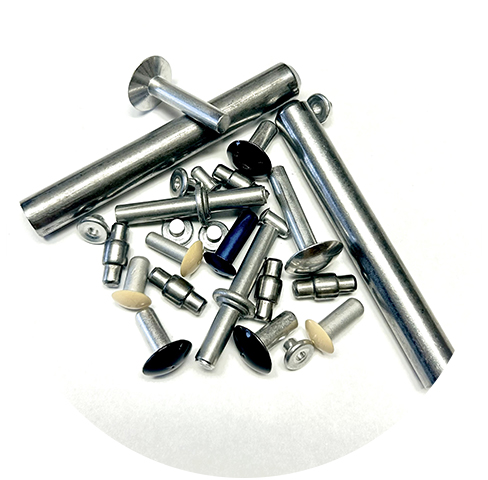 Cold-headed Specials
Securit manufactures a number of items that are not riveted in application, called "cold-headed specials." Some of these items include spacers, buttons, tumbling media and pins. Intended to be more efficient – and more attractive – than other fasteners, the team at Securit can work with you to determine the best solution for your application.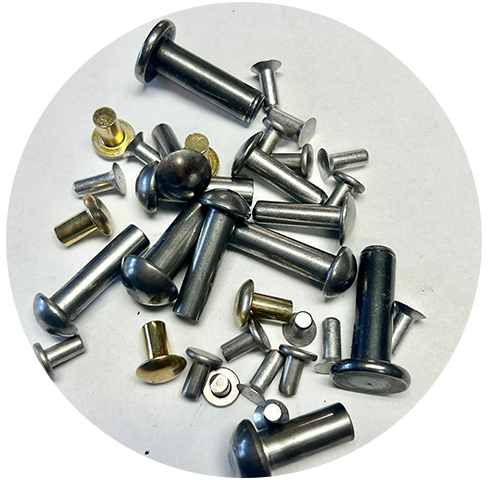 Standard Solid Rivets
A global supplier of the industry's best rivets, standard solid rivets are Securit's bread and butter. Available in a wide range of diameters and materials, including aluminum, brass, copper, steel and stainless steel, our standard rivets are utilized in a number of industries. From heavy transportation and the automotive industry to agricultural equipment and housewares, standard rivets from Securit are designed to keep it together.